16″ Snowball Tourney
January 28-29, 2023 4GG Men's 16″ $250 (Deadline: Jan 20, 2023)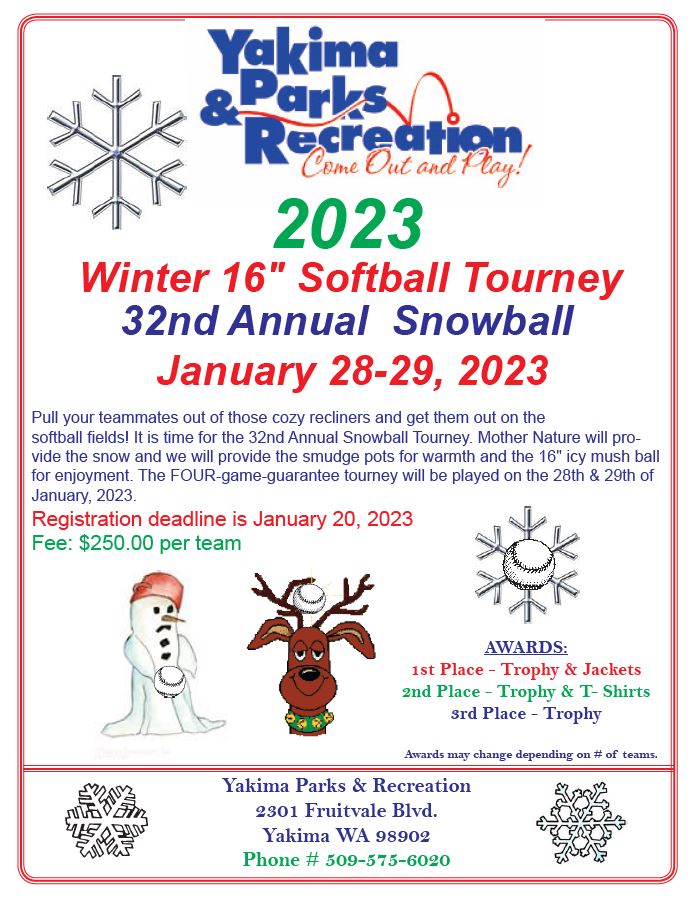 ---
---
---
---
2023 Summer Softball – Brochures will be available at the end of February or beginning of March.
Start building your 2023 SLOWPITCH TEAM. Parks and Recreation offers USA Leagues for men and women played weeknights. A Co-Rec league will play on Sunday evenings beginning in June. All games are double-headers and played at the Gateway/Kiwanis Sports Complex at 1500 East Maple, Yakima.
2023 Yakima Parks and Recreation Softball Tournament Schedule
Early Bird Softball Tourney – May 20-21, 2023 (5RR) M, W, Coed Fee: $250
Late Gateway Blast Tourney – August 12-13, 2023 (5RR) M, W, Coed Fee: $250
Ghosts & Goblins Costume Tourney – October 14-15, 2023 (5RR) Coed Fee: $250
For information go to Gatewaysportscomplex.com.