Parks and Recreation's Beyond the Bell, after-school program is dependent on the health status of our area and will be available once the school district is back in session. All dates are subject to change depending on COVID-19. Registrations will only be available online starting Friday, August 7, 2020 at 8:00 a.m.
What is your child doing after school? Enroll them in the Beyond The Bell after school program for games, arts and crafts, homework assistance, fun and friends. Beyond the Bell is a safe, supervised, drop-in after school program for kids to participate in a variety of fun, educational, recreational and cultural activities after school – enriching the lives of Yakima's youth. Beyond the Bell follows the Yakima School District Calendar. Yakima Parks and Recreation is not responsible for the arrival or departure of children, and supervision is not provided before or after the times indicated.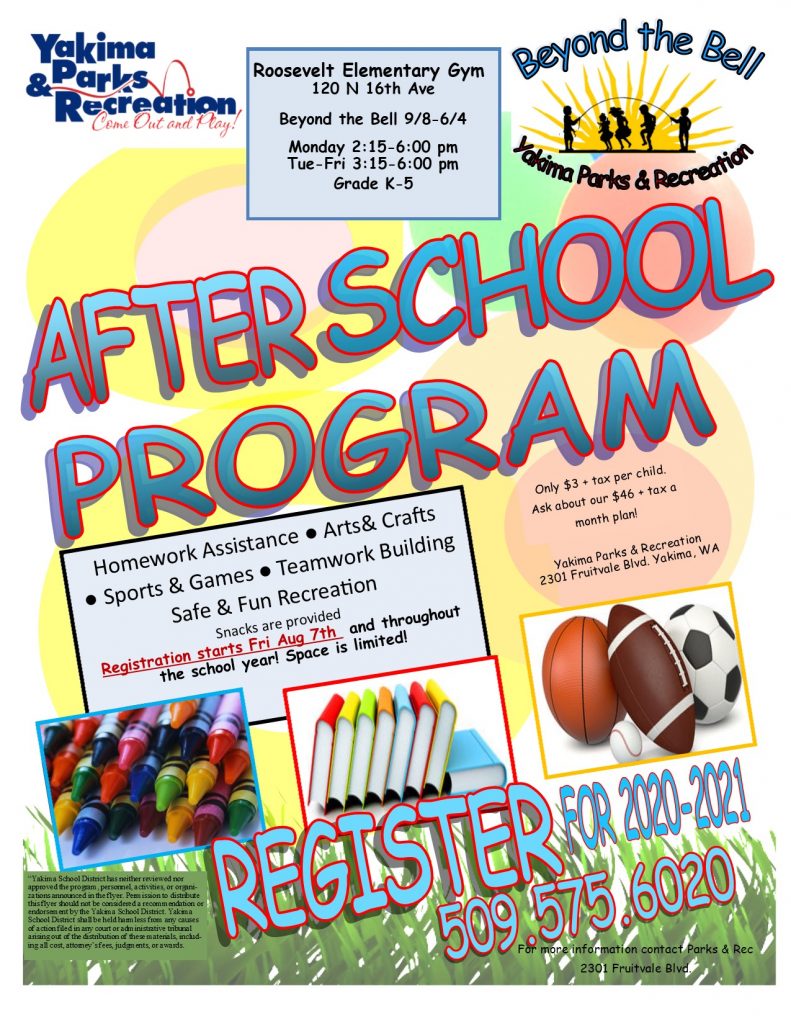 Beyond the Bell
Registrations will only be available online! Registration begins Friday, August 7 at 8:00 a.m. (Click HERE to register)
Only $3 plus tax per child/per day (or $46 plus tax per month if paid by the 20th of the prior month)
September 8, 2020 – June 4, 2021 (Dates are subject to change due to the Covid-19 virus)
Monday's: 2:15 – 6:00 p.m.
Tuesday-Friday: 3:15 – 6:00 p.m.
Location: Roosevelt Elementary Gym, 120 N 16th Ave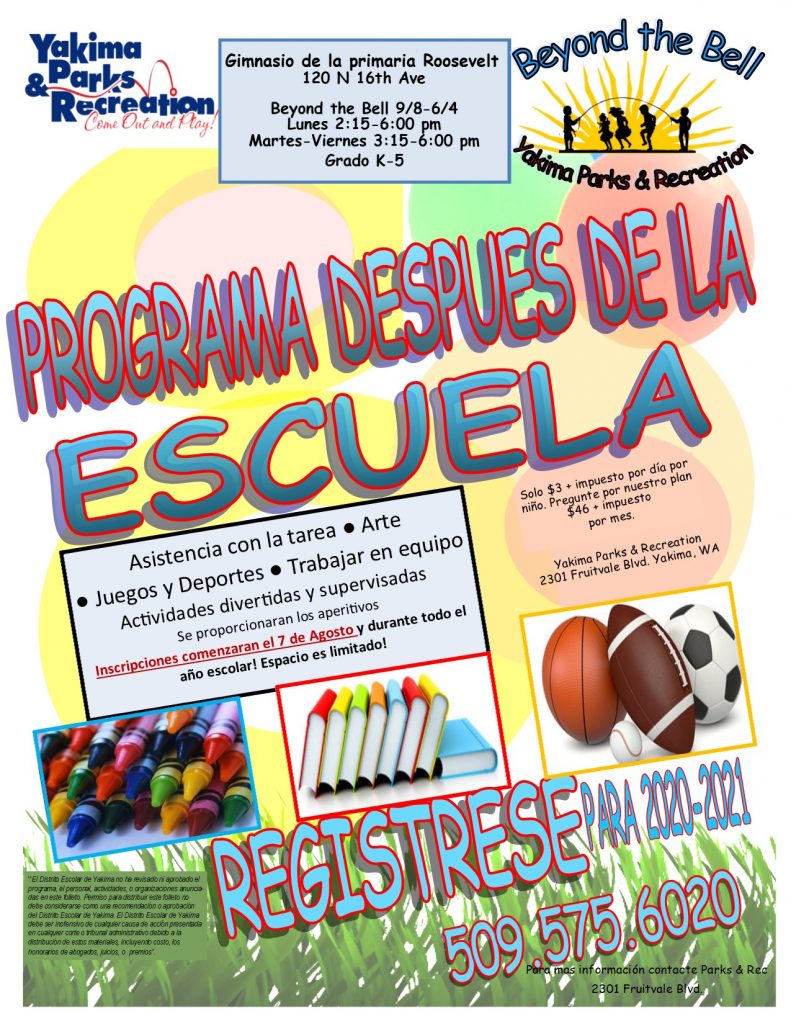 Despues de la Campana
¡Las inscripciones solo estarán disponibles en línea! Inscripciones comenzaran el Viernes, 7 de Agosto a las 8:00 a.m. (Haga clic AQUI para inscribirse)
Beyond the Bell sigue el calendario del Distrito Escolar de Yakima. Parques y Recreación de Yakima no es responsable de la llegada y salida de los jóvenes, y no se provee supervisión antes o después del horario indicado.
Solo $3 más impuesto por niño/por día (o $46 más impuesto por mes si paga por adelantado)
8 de Septiembre de 2020 – 4 de Junio de 2021 (Las fechas están sujetas a cambios debido al virus Covid-19)
Lunes: 2:15 – 6:00 p.m.
Martes-Viernes: 3:15 – 6:00 p.m.
Ubicacion: Gimnasio de la Primaria Roosevelt, 120 N 16th Ave
2020-2021 BTB Registration form