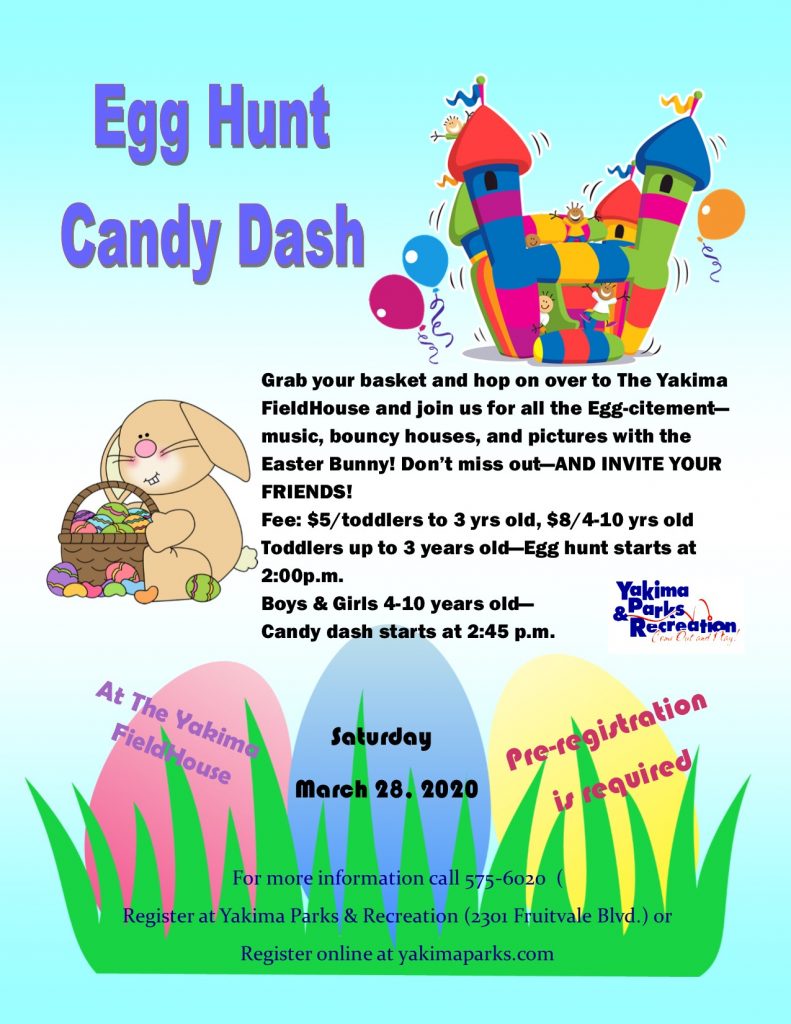 Egg Hunt/Candy Dash-Saturday, March 28! Doors open at 1:30 p.m.
Grab your basket and hop on over to The Yakima FieldHouse and join us for all the Egg-Citement-music, bouncy houses, and pictures with the Easter Bunny! Don't miss out-AND INVITE YOUR FRIENDS! Call (509 575-6020 for more information.
Fee: $5/3 years old & younger Fee: $8/4-10 year olds
Location: The Yakima FieldHouse 1015 E Lincoln Ave, Suite 105, Yakima
Toddlers-3 year olds: Egg hunt starts at 2:00 p.m.
Kids, 4-10 year olds: Candy dash starts at 2:45 p.m.*
*NOTE: For Candy Dash-only participants allowed in dash area.
Pee Wee Soccer  Boys & Girls, 5-6 year olds
Dribble, shoot, score!!! Kids will learn the fundamentals to dribbling, passing and shooting; improve basic soccer skills, provide a positive experience and encourage sportsmanship in youth-all in non-competitive games. Fee includes a t-shirt.
Fee: $38/$30 resident discount $10 optional ball
Date: Wed. 4/15-5/6 Time: 6-7:00 p.m.
Location: Chesterley Park
Itty Bitty Intro to Soccer  Boys & Girls, 4 year olds
Get your little one started in soccer!! Kids will be introduced to the basics of dribbling, passing, and shooting. They will learn about teamwork and gain valuable social skills-all while making new friends! Fee includes a t-shirt.
Fee: $38/$30 resident discount $10 optional ball
Date: Wed. 5/27-6/17 Time: 6-6:45 p.m.
Location: Chesterley Park
Pee Wee Golf Lessons 4-6 years old
Introduce your preschooler to the game of golf. The instructor teaches the basics of gold through fun games and activities. The class will cover basic etiquette, stance, swings and putts. Class size is limited to four participants to guarantee necessary instruction for each participant to develop their game.
Fee: $35/$30 resident discount. Time: 3:30 – 4:00 p.m.
Session 1 – Th April 30-May 14
Session 2 – Tue May 12-26
Session 3 – Th June 4-18
Junior Group Lessons 7-16 years
Juniors-Hone your skills and improve your scores! The instruction will be geared to help you improve your skills. Come out and play some games and see if your score comes down.
Fee: $54/$45 resident discount                   Saturdays, 9:00-10:15 a.m.
April Session – April 4-25
May Session – May 2-23
June Session – June 6-27
July Session – July 11-August 1
August Session – August 8-29
September Session – September 5-26
Click HERE to register