Location:  40th and River Road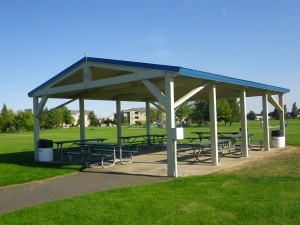 Amenities:
Four Soccer Fields
Skate Park
Play Equipment
Picnic Shelter
Tables
Restrooms
Parking Facilities
Nature Trail/Walking Path
Chesterley Park is 31.7 Acres located at the intersection of 40th Avenue and River Road, is a heavily used park for casual park users, skateboarders, and soccer players.  The 10,000 square-foot skatepark is home for many local skateboarders.  The 4 soccer fields are used by the school district during the school year, and various leagues during the spring, summer and fall.  The parking lot is accessed off of River Road, or you can enter the park via the Powerhouse Canal Pathway which runs through the west side of the park along 40th Avenue.  Click HERE to reserve the picnic shelter.