Location:  1399 South 48th Avenue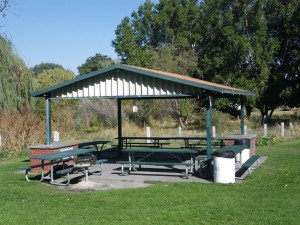 Amenities:
Basketball Court
Disc Golf Course (9 hole)
Gazebo
Nature Trail
Parking areas
Pathway
Two Picnic Shelters
Picnic Tables
Gazebo
Two Playgrounds
Pond
Restroom
Dog Park
Wide Hollow Creek
Randall Park is 37 Acres and is located at South 48th and West Viola Avenues in the southwest area of the City.  The majority of the Park lies to the north of Wide Hollow Creek. A portion of the 5 acres of land to the south of Randall Park has been developed into the Randall Park Dog Park. It is 1.6 acres and has separate area for timid and small dogs. Benches, a dog drinking fountain, dog agility equipment and a newly constructed picnic shelter, which was built in 2019 utilizing donations and Parks Capital funds, are available inside the dog park. Randall Park is very popular with walkers, nature lovers, recreationists, and Disc Golfers.  The disc golf course is primarily on the west portion of the park, with hole #1 being accessed at the entrance to the 48th side parking lot. Click HERE to reserve the picnic shelter.