Location:  1399 South 48th Avenue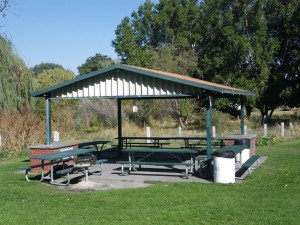 Amenities:
Basketball Court
Disc Golf Course (9 hole)
Gazebo
Nature Trail
Parking areas
Pathway
Picnic Shelter
Picnic Tables
Playground
Pond
Restrooms
Dog Park
Wide Hollow Creek
Randall Park, ranked 2nd for overall usage in our 2011 Parks and Recreation Survey, is located south of Nob Hill Blvd, and north of Washington Avenue, between South 44th and 48th Avenues.  Randall Park is very popular with walkers, nature lovers, recreationists, and now Disc Golfers.  With the help of a $4000 grant from Yakama Legends Casino and $2000 in donations, Randall Park is now home to Yakima's first Disc Golf Course.  The disc golf course is primarily on the west portion of the park, with hole #1 being accessed at the entrance to the 48th side parking lot. Click HERE to reserve the picnic shelter.