101 North 65th Avenue
509 575-6166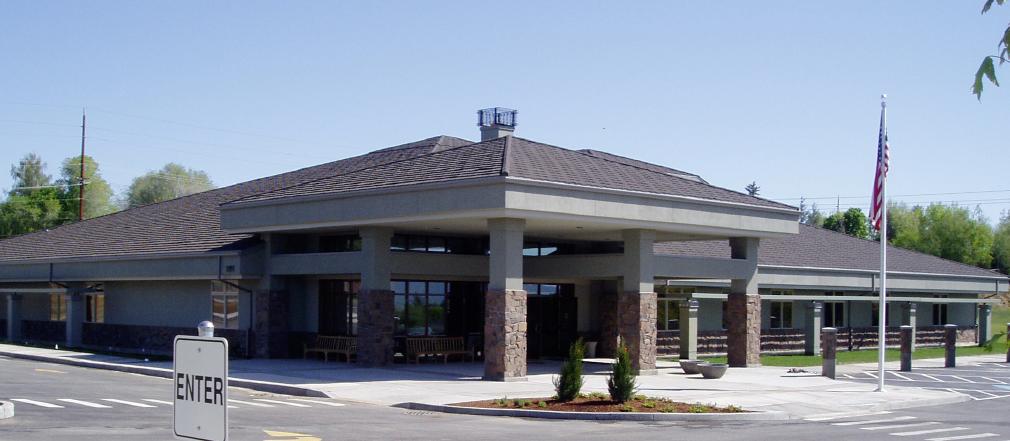 The Harman Center opened in May of 2004. The beautifully decorated building is home to the city's many, varied senior programs. Visitors enjoy the coffee bar and lounge, computer lab, billiards room, health care suite and classrooms. In the colder months, the two-story fire place is enjoyed by many! Consider hosting your next celebration in the Harman Center. We have a wonderful ballroom and a state-of-the-art commercial kitchen.
For more information please call (509)575-6166.
---
Just a reminder! The Harman Center has only been approved to open its doors for Health & Wellness Classes. The Center is only open for these classes and class sizes are limited. In the phase our county is in, we can only operate classes at a 1 instructor to 5 participants ratio. Some classes will have more than one instructor.
Exercise with Mei-Lynne will not begin til Tuesday, November 10th.
Below are our protocols and schedule of classes.
Harman Center Exercise Protocols (PDF)
Harman Center Health & Wellness Classes (JPG)
---
***ATTENTION ALL HARMAN CENTER NEWSLETTER SUBSCRIBERS***
The Harman Center will NOT be sending out a Fall 2020 Newsletter due to the Center being closed to the public at this time as well as all of our special events have been cancelled for the Fall. All subscriptions will be extended 3 months due this as well as all advertisements will be rolled over to the following quarter newsletter. Next newsletter to be sent out will be our Winter 2021.
---
People for People Meals on Wheels Information
People for People Meals on Wheels are distributing 7 days worth of meals for Seniors every Monday from 10:30am-11:00am. Please call (509)426-2601, to sign up or find out more information. Meals are distributed outdoors drive-thru style.
---
Harman Center Mission Statement
The mission of the Harman Center at Gailleon Park is to improve the lives of adults 50 and older through a wealth of recreational, educational, and social activities as well as promote support, volunteerism and community activism.
---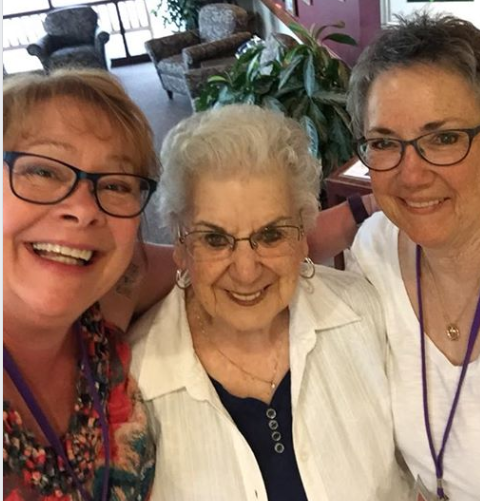 Volunteer of the Month
Meet Melba!
About our Volunteer of the Month!
---
Newsletter & Catalog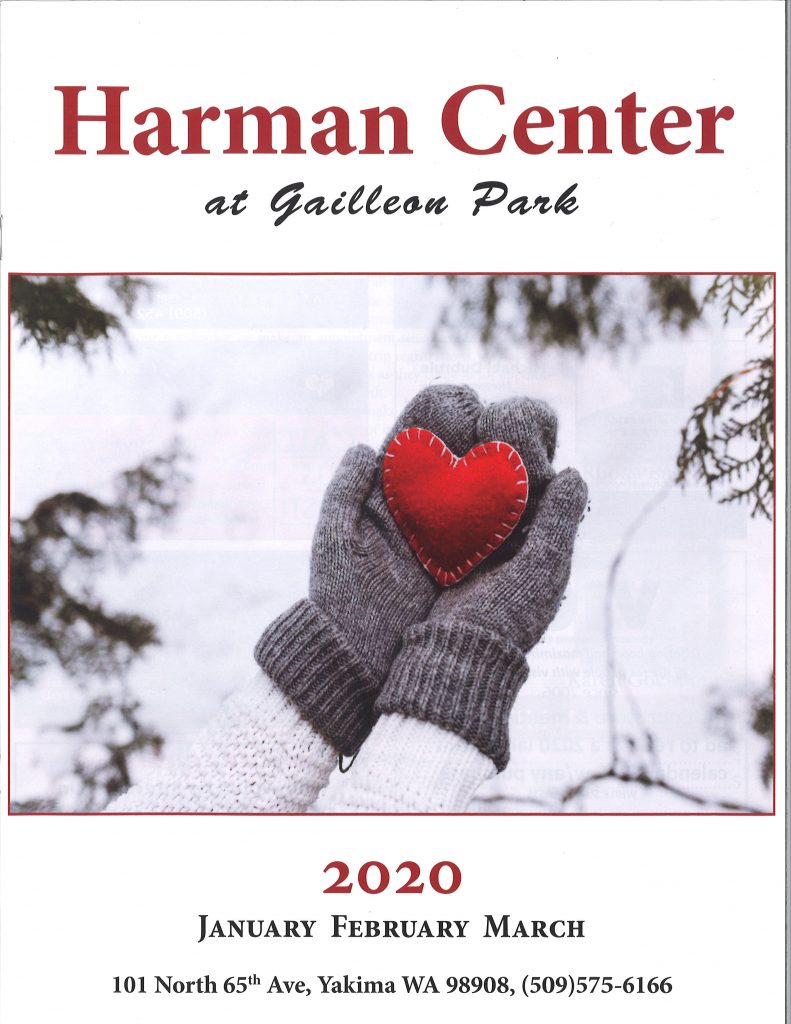 The quarterly newsletter provides its readers with info on all of the fun events and classes happening at the Harman Center. In it, you will find special announcements, trip and tour reminders, and much, much more! Would you like to receive your newsletter? An annual subscription is just $12.00. Please visit the Harman Center or call 509-575-6166 to subscribe.
We look forward to seeing you!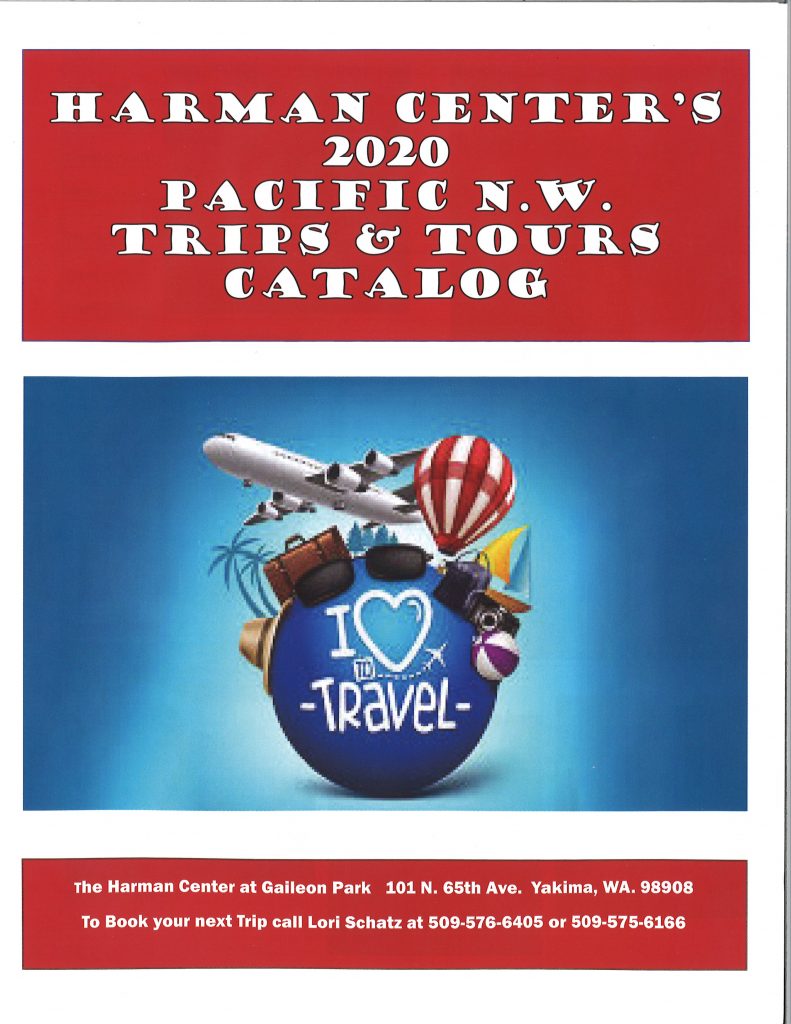 2020 Trips & Tours Catalog

Do you have a thirst for adventure? Whether you want to leave town for the day or for a few weeks, you can travel with us. Near and far, let's explore the world together! Take some time to review our Harman Center 2019 Trips & Tours.
---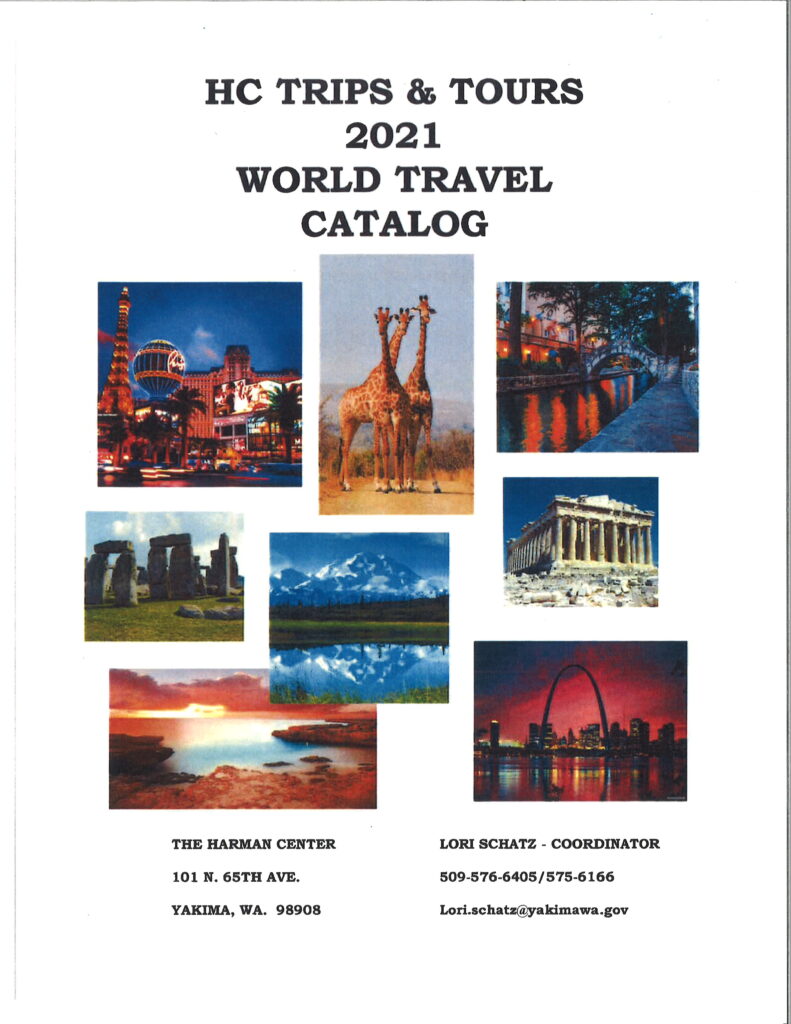 Check out our 2021 World Travel Catalog today! This catalog will have the information for all of the 2021 "big" trips, which also means you can sign-up for them NOW! This will allow everyone who wants to go on some of these trips to put their deposit down and then have plenty of time to make payments before the due date. It also allows for you to plan ahead. Catalogs are available and mailed by request. Call Lori Schatz at (509)576-6405 to have a copy of our 2021 Catalog mailed to you!
Harman Center Groups & Classes
Ongoing
Activities
Belly Dancing
Billiards/Pool
Bingo
Bridge
Cooking for One
Cribbage
Dance Lessons
Dominoes
Essential Oils
Genealogy
Hand & Foot
Harman Center Singles
Line Dancing
Mah Jong
Matinee Dances
Pinochle
Reliving Rock n' Roll
Tap Dancing (Beg/Int/Adv)
Writing Club
Yarn Spinning
Exercise
Classes
Forever Fitness
Pilates
Walking Group
Zumba
Art & Craft
Classes
Creative Coloring Group
Jewelry Design
Leather Tooling
Oil Painting
Quilting
Scrapbooking
Water Color
Wood Carving
Health &
Wellness
Blood Pressure Monitoring
Blood Sugar Testing
Cognition Screenings
Day Break – Adult Day Care
Driver Refresher Course
Hearing Aide Cleanings
Hearing Screenings
Clubs
Dinner Club
Our Band
TOPS
Education
Classes
Low Vision Education & Support Group – Aug 20th @ 1:00pm
Choosing the Right Senior Housing – Sept 17th @ 12:00pm
Special
Services
Computer Lab and Classes
iPad User Training
Library
TV Room
Volunteer Opportunities
Saturday Breakfast