101 North 65th Ave
Yakima, WA 98908
509 575-6166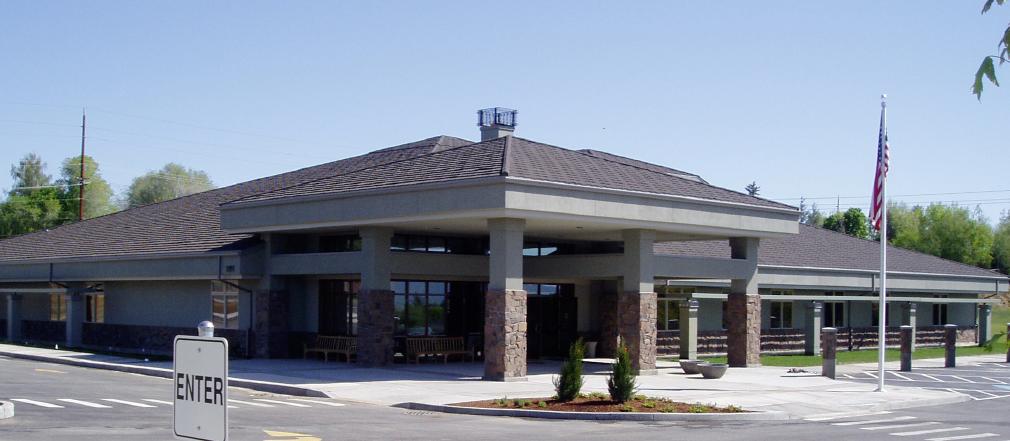 The Harman Center opened in May of 2004. The beautifully decorated building is home to the city's many, varied senior programs. Visitors enjoy the coffee bar, computer lab, billiards room, ballroom and classrooms. In the colder months, the two-story fire place is enjoyed by many! Consider hosting your next celebration in the Harman Center. We have a wonderful ballroom and a state-of-the-art commercial kitchen.
For more information please call (509)575-6166.
Monday – Friday 8:00am – 4:00pm
Saturday 9:00am – 1:00pm
For Closures and Delays, please check out our Facebook Page:
---
Harman Center Mission Statement
The mission of the Harman Center at Gailleon Park is to improve the lives of adults 50 and older through a wealth of recreational, educational, and social activities as well as promote support, volunteerism and community activism.
---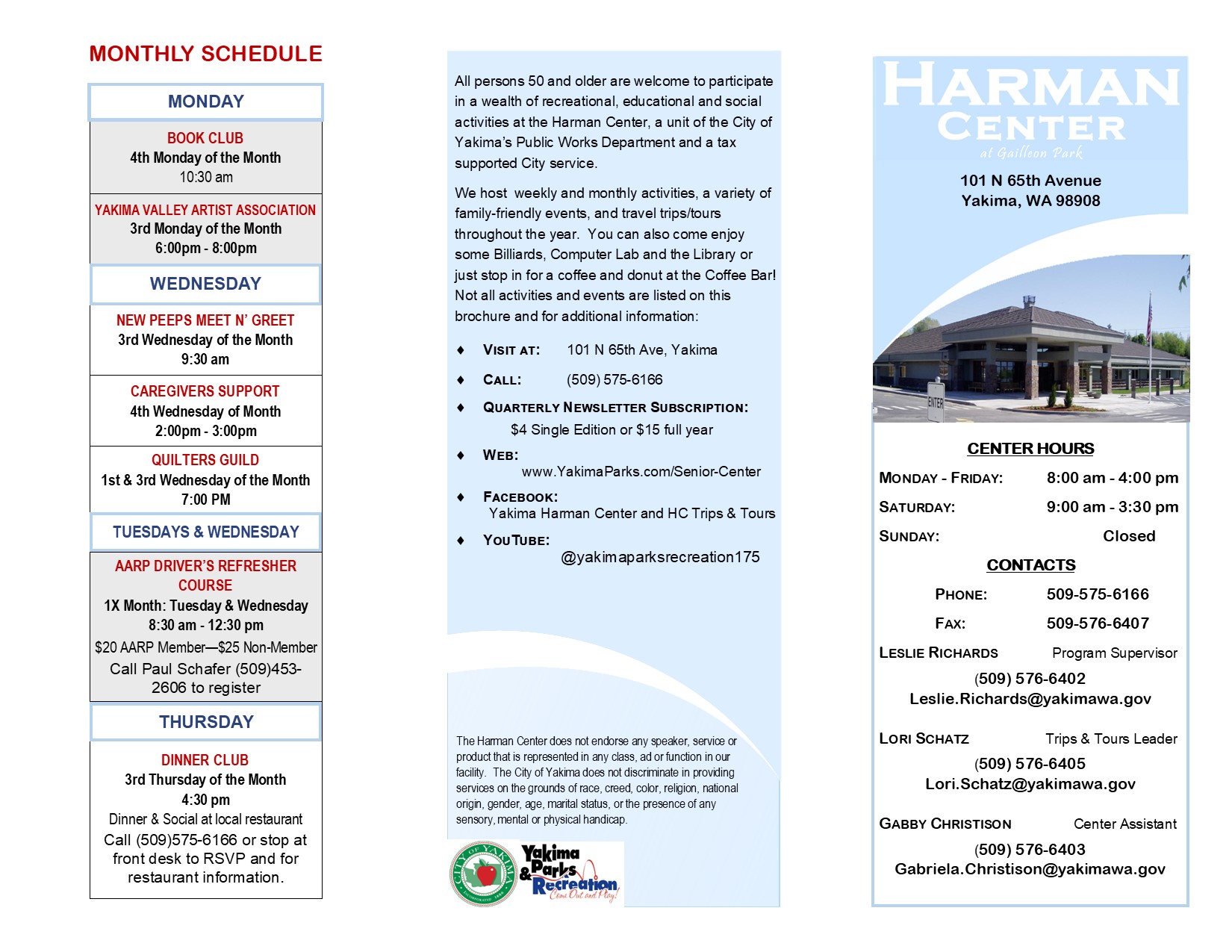 ---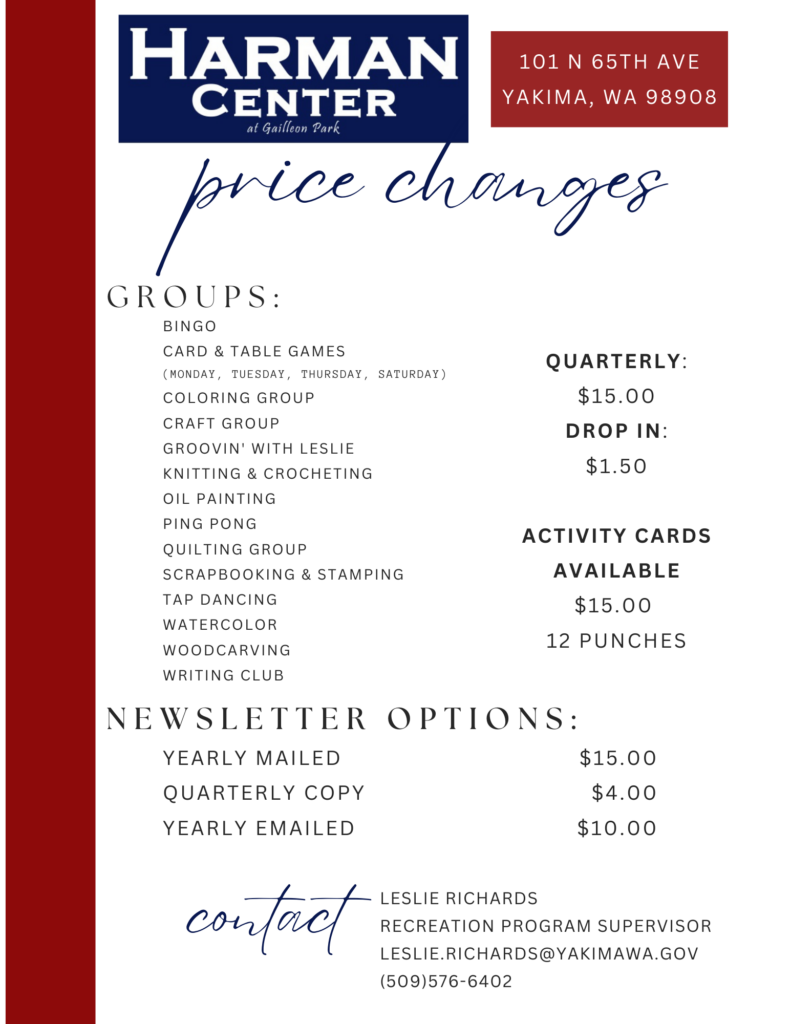 There are some price changes for the 2023 Harman Center Activities and Newsletter. Please click here for the flyer! If you have any questions, feel free to contact, Leslie Richards, at (509)576-6402 or via email Leslie.Richards@YAKIMAWA.GOV.
Our Spring Quarter 2023 Community Project is collecting new, unopened donations for the Veteran's Coalition. Please drop donations off at the Harman Center Front Desk. We will be collecting items until June 30th, 2023. Click here for the flyer!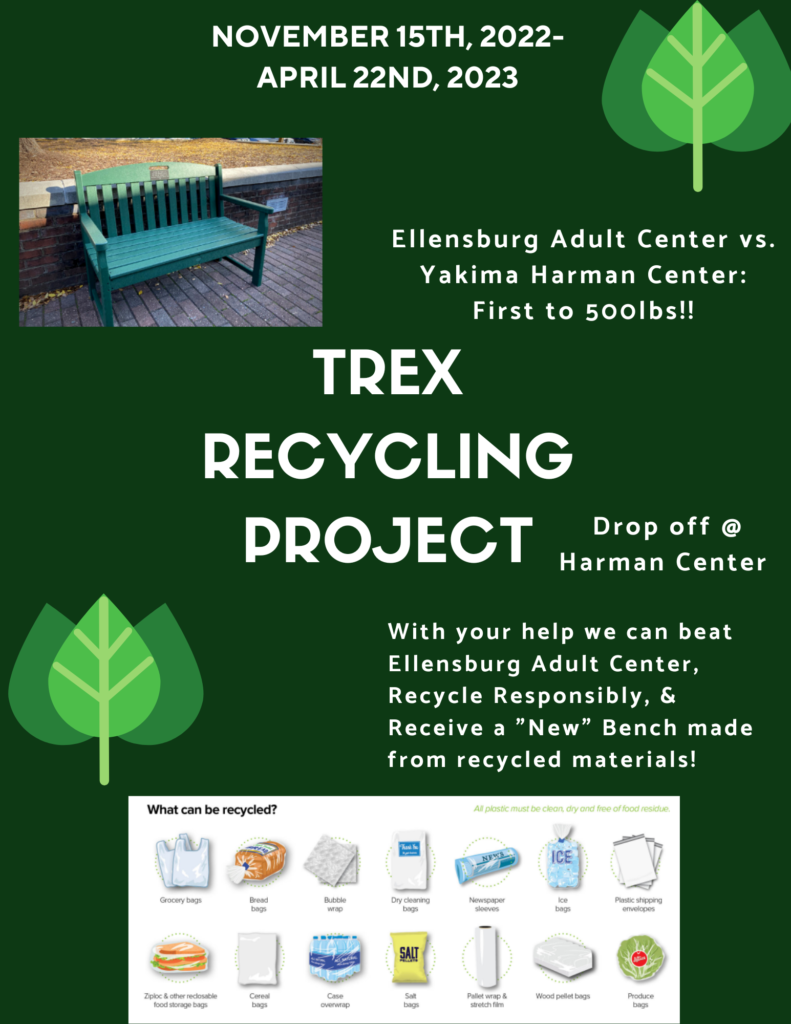 Our other 2023 Community Project is collecting stretchy plastics for Trex Recycling. We will be competing with Ellensburg Adult Center to collect the most stretchy plastics. If we collect 500lbs of plastics, Trex Recycling will donate a bench made of the Trex materials to the Harman Center. There will be a collection container in the back of the Harman Center across from the bathrooms. To view items that can be collected, click here. We will be collecting stretchy plastics til April 22nd.
---
Chat Face! with the Harman Center Girls
Join Leslie, Lori, and Gabriela for all of the latest Harman Center News, HC Trips & Tours, hot topics, and a bit of laughter. Every Wednesday @ 1:00pm on YouTube. Click the link below to see all of our episodes:
Yakima Parks & Recreation YouTube Channel
---
Newsletter & Catalogs
---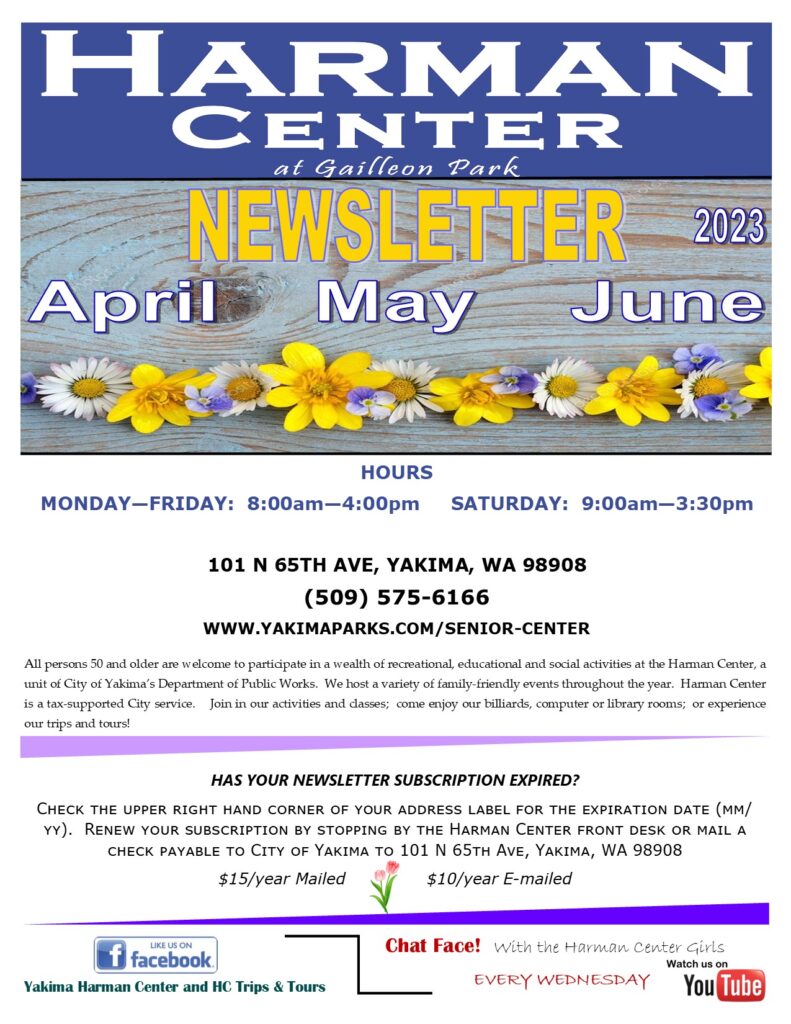 2023 Spring Newsletter
Check out our Spring 2023 Newsletter with updated information about the Harman Center and fun activities to complete!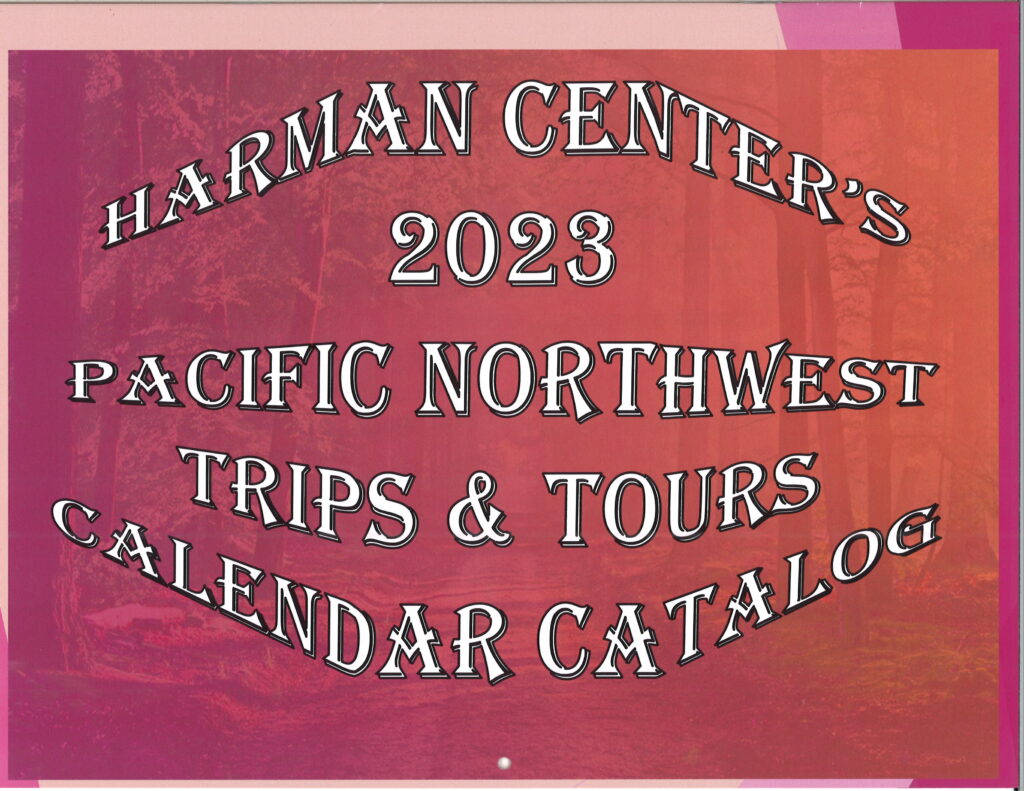 2023 PNW Trips & Tours Catalog

RELEASED TO THE PUBLIC…JANUARY 3RD, 2023! Our trip and tours program offers day trips and extended trips for up to two weeks at a time. We travel to sights near-by and to destinations around the world. Our trips include events, plays, and educational adventures. Please take note that even though our tours are tailored for 55 and over, all ages are welcome to travel with us. If you would like a copy, please call and we will mail you our new 2023 Trips and Tours booklet.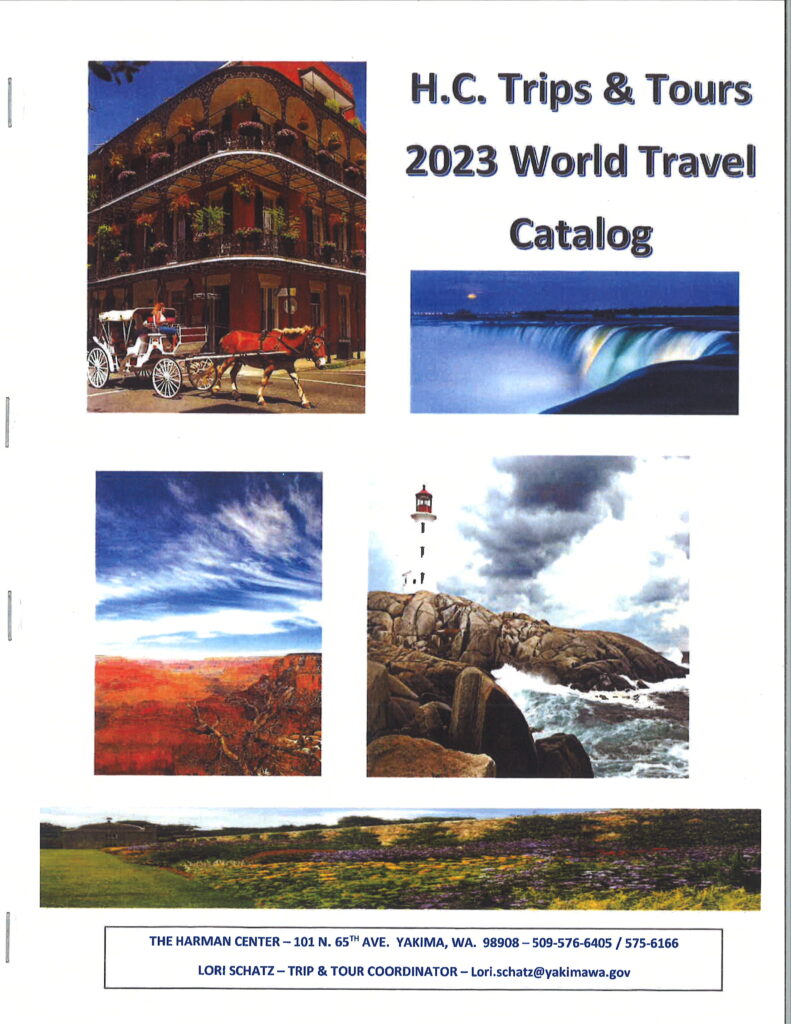 2023 World Travel Catalog

Check out our 2023 World Travel Catalog today! This catalog will have the information for all of the 2023 "big" trips, which also means you can sign-up for them NOW! This will allow everyone who wants to go on some of these trips to put their deposit down and then have plenty of time to make payments before the due date. It also allows for you to plan ahead. Catalogs are available and mailed by request. Call Lori Schatz at (509)576-6405 to have a copy of our 2023 Catalog mailed to you!
---
People for People Meals on Wheels Information
Video: People for People Information
People for People Meals on Wheels are serving meals at the Harman Center on Mondays, Tuesdays, and Wednesdays from 11:00am – 11:30am. They are also distributing 7 days worth of meals for Seniors every Monday from 10:00am-11:00am. Please call (509)426-2601, to sign up or find out more information. Meals are distributed outdoors drive-thru style.
---
Harman Center Volunteer of the Month
March 2023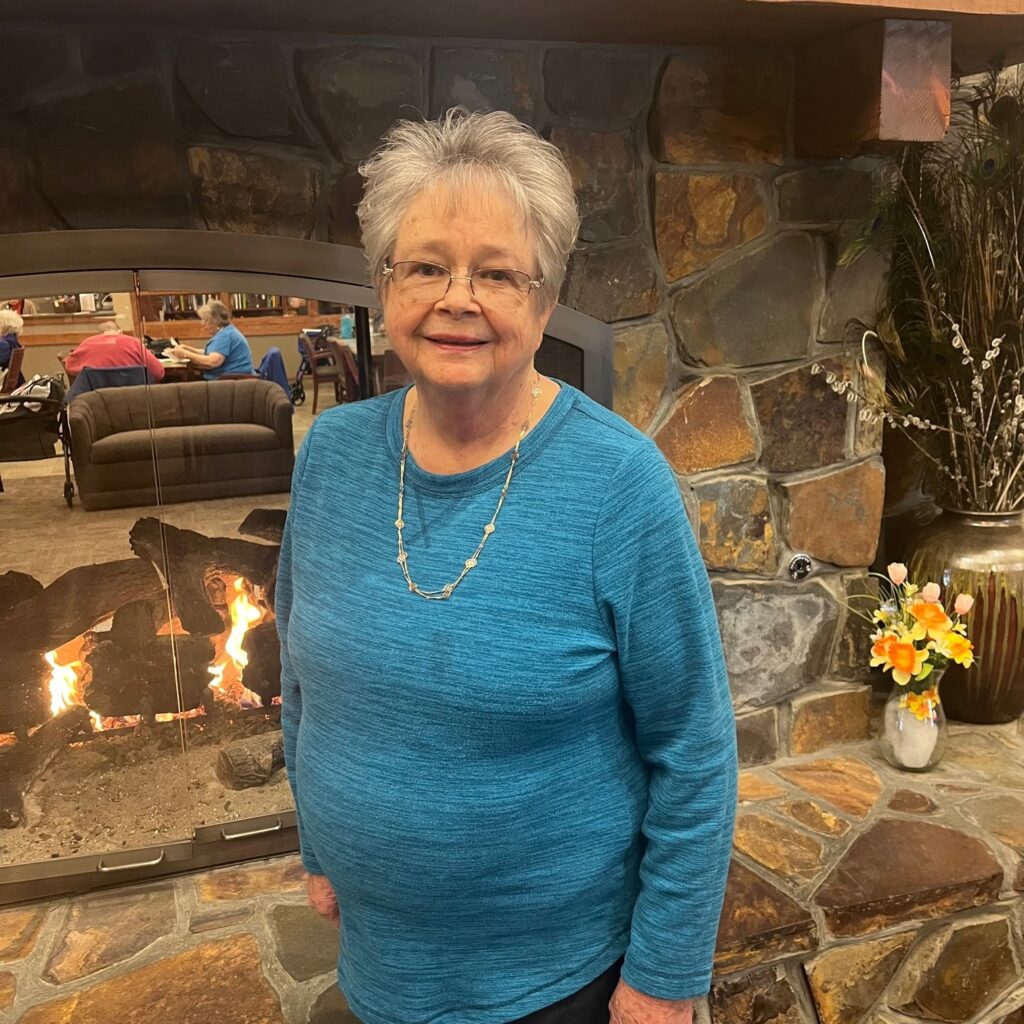 Lois Cruikshank
---
Harman Center Groups & Classes
Ongoing
Activities
Billiards/Pool
Bingo
Bridge
Cribbage
Dominoes
Essential Oils
Hand & Foot
Mah Jong
Pinochle
Writing Club
Exercise
Classes
Forever Fitness
Exercise w/ Mei-Lynne
Groovin' w/ Leslie
Line Dancing
Tap Dancing (Beg/Int/Adv)
Art & Craft
Classes
Creative Coloring
Diamond Art
Jewelry Design
Knitting/Crocheting
Oil Painting
Quilting
Scrapbooking
Water Color
Wood Carving
Health &
Wellness
Blood Pressure Monitoring
Blood Sugar Testing
Cognition Screenings
Driver Refresher Course

Clubs
TOPS
Education
Classes
TBD
Special
Services
Computer Lab and Classes
iPad User Training
Library
TV Room
Volunteer Opportunities