Manager's Message
One of my favorite quotes was said by Daniel Burnham.  He was an architect and an urban designer in the late 1800's.  He created the master plan for the parks along Chicago's lake front.  He said,
"Make no little plans; they have no magic to stir men's blood and probably themselves will not be realized. Make big plans; aim high in hope and work, remembering that a noble, logical diagram once recorded will never die, but long after we are gone be a living thing, asserting itself with ever-growing insistency. Remember that our sons and our grandsons are going to do things that would stagger us. Let your watchword be order and your beacon beauty." Daniel Burnham (September 4, 1846 – June 1, 1912) 
We continue to work on our comprehensive master plan for parks and recreation and it is a time to look backwards with a critical eye, focus on   today with a realistic eye and look to the future with a dreamers' eye.  We are in the process of compiling the list of capital projects for the next 5 to 10 years with the input received from our citizen's survey and community input meetings.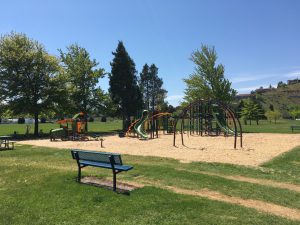 Some of the projects will be accomplished.  Some will need to wait.  Some will be added to the wish list and shared with donors.  Some will never become a reality, but the process is still a good one.  I am reminded of an individual that I worked with back east.  She purchased a map of the community and proceeded to draw on it with colored markers the places where she would like walkways connecting parks, schools and business centers.  It has taken many years, but much of what she envisioned has become reality.  She did very little of the work, but she made "big plans" and shared the vision with others of what could be.  We must do the same.
A huge thanks to the Together Church and Yakima Southwest  Rotary for building playgrounds for us.  Nina Vickers with Together Church and Tom Sparling and Wes Morris with Yakima Southwest Rotary were project leads on the two playground projects. New playgrounds are at Cherry Park and Chesterley Park.  Slowly, but surely we are getting the old playgrounds replaced with new ones, thanks to the generosity of our community.
We are installing a new restroom at Gardner Park.  The current restroom is the last of the old nasty bathrooms.  What a great improvement to the parks.  A new playground is also planned for Gardner Park this year.
Randall Park pond project got delayed due to high bids.  We are going out for bid again wi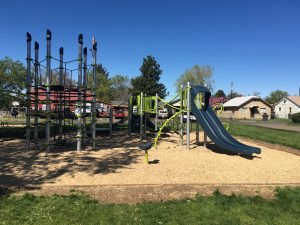 th a few modifications to the project.  Hopefully, the bids will come in at the budgeted amount.  The 48th Avenue parking lot project is moving forward and that is out for bid too.  The bridge to the nature area is going forward also.  A donation of $25,000 was received back in 2015 from the Lions Club for the bridge.  Permitting, design and other issues slowed that project down.  When completed, we will be able to access the nature area with machinery which will make it easier for us to maintain.  New walkways are slated for 2018.
Let's remember Daniel Burnham's quote and continue to aim high and make big plans for our parks.  Here is my contact information. Kenneth.Wilkinson@YakimaWa.gov or 509.576.6416. I always love the opportunity to talk with park users. You are why we are here.
Ken Wilkinson,  Parks and Recreation Manager