Manager's Message
"The journey of a thousand miles begins with one step".
Lao Tzu, an ancient Chinese philosopher and writer in 533 B.C.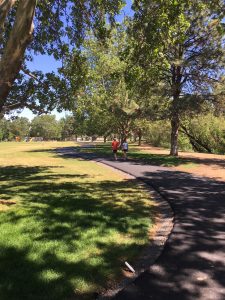 I remember during my first month in Yakima as the Parks and Recreation Manager, we held an event at Randall Park and I thought to myself, we need to renovate this park.  That was back in October of 2008.  Now we are almost ten years down the road and we are in the home stretch for our Randall Park Improvement Project.  As I am writing this letter, work is being completed on the walkways within the park and on the 44th Avenue parking lot.  We apologize to everyone for the inconvenience the construction has caused.  Our talented staff in the Streets Division, led by Joe Rosenlund, have been doing a ton of the work in the park.  We have also had a large amount of guidance and assistance from our City Engineer, Brett Sheffield and his staff.  I also need to acknowledge Mike Price, Stormwater Division Manager, and his staff for the work on the pond.  I would be remiss if I did not mention Brad Schneider, Park Operations Supervisor, and his staff for the many hours they have spent working on this project. Saying thank you just doesn't seem like enough to show how much I appreciated my City of Yakima coworker's contributions to this project.
As I look back on this project, I am once again amazed at how we created a vision for improving Randall Park starting with 2 anonymous donations and establishing a small committee.  This started the process of dreaming about the improvements that could be made at the park.  After we applied for the grant from the State of Washington and got $500,000 to be able to do more to the park, our great service clubs jumped on board and continued the momentum with 2 new picnic shelters, a bridge, benches, a basketball court, wildlife observation deck and a playground.  We also received more donations and other organizations wanted to be part of the project.  City funds paid for the two parking lots, new walkways and the restroom.  The Stormwater Division made the much needed improvements to the pond and the ducks seem very happy.  Below is a list of our amazing donors, volunteers, businesses, organizations and contributors.  Without them, we could not have made this project a reality.
Donors
Russ & Elaine Kruse                                       Steven Manske
Hamilton & Carol Licht                                    Sonya Claar Tee and Robert Tee
Earl & Marilyn Pratt                                        Carl Dry
Kathleen La Fetra                                           Glenn and Valarie Dorn
Anonymous Donor – $100,000                       Anonymous Donor $50,000
Service Clubs
West Valley Kiwanis Club – Benches
Yakima Southwest Rotary Club – Wildlife Observation Viewing Deck and Basketball Court
Yakima Lions Club – Bridge
Downtown Yakima Rotary Club – Playground
Yakima Sunrise Rotary Club – Picnic Shelters
Organizations
Recreation Conservation Office of the State of Washington – $500,000 grant
Mid-Columbia Fisheries Enhancement Group – Riparian Zone restoration – Wide Hollow Creek & Pond
Triumph Actuation Systems – Trees and Volunteer Labor
Boy Scouts of America – Various Eagle Scout projects
City Departments and Divisions
Yakima Stormwater Division – Pond Renovation
Yakima Streets Division – 48th & 44th Avenue parking lots, .75 miles of 10' wide walkways, parking lot
striping, parking lot lighting
Yakima Parks Maintenance – Irrigation, landscaping, general clean up, grass reseeding, ground repair, etc.
Yakima City Engineering Division
Scott Schafer, Director of Public Works
When I think about our Randall Park project, I am reminded of the quote from Lao Tzu, an ancient Chinese philosopher and writer in 533 B.C.  He said the familiar quote, "The journey of a thousand miles begins with one step."  We started with one step and here we are at almost the end of the journey and it does feel like it was a thousand miles.  As you think about your plans, ideas and goals, remember that we all need to take that first step and as you look back I am sure you, like me, will be amazed at the miles you have traveled.
New park signs are popping up around Yakima.  We replaced the signs at Cherry, Miller and McGuinness Parks.  Every year we are hoping to replace a few park signs.  Keep an eye out for the next new park sign.
Ken Wilkinson,  Parks and Recreation Manager