Manager's Message
We have completed the 2017 – 2022 Comprehensive Plan for Parks and Recreation.  Hooray!  This was a big task that took us over a year to complete and I want to thank all of the staff that worked to get it completed.  We decided not to hire an outside consultant and complete the work with city staff.  Keeping the plan in house saved our budget over $30,000.  That's money saved that we can use on other projects or programs.  One of my favorite quotes that we put in the plan is from Pablo Picasso.  The quote is
"Our goals can only be reached through a vehicle of a plan, in which we must fervently believe, and upon which we must vigorously act. There is no other route to success."
It is always amazing to me that when we identified a goal in the past and then worked "vigorously" towards achieving those goals, how many we have seen become a reality.  The plan is available online at Yakimaparks.com.  Please take some time to look over the plan.  The plan is a "living" document that can be amended in the future as needs arise and as funds become available.
Fall has once again been busy for the Yakima Parks and Recreation Division.  Thanks to the work done on the pond at Randall Park by the City of Yakima Stormwater Division, we now have a deeper pond that will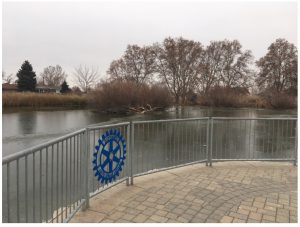 improve water quality and make the ducks very happy.  A great BIG thank you to Mike Price, Wastewater/Stormwater Division Manager and his staff for making this improvement a reality.  We were really surprised by just how shallow the pond had become.  It did not take any time at all to lower the water level.  Thousands of cubic yards of sediment were removed.  If improvements to the pond were not made it would not have been long before the Randall Pond might have been called Randall Swamp.
The parking lot is almost complete on the 48th Avenue side of Randall Park.  Another HUGE thank you to Joe Rosenlund, Streets and Traffic Operations Manager, and his staff along with our Engineering Division and of course our Parks Maintenance staff, for working with our contractors to get this project completed.  We have two more big projects at Randall Park before we call it complete.  The 44th Avenue parking lot is to be constructed in the spring along with the replacement of the pathways within the park that is scheduled for next summer.  Again we will rely heavily on City of Yakima employees to get the work done and save us a considerable amount of money by completing much of the work ourselves.
You will notice that we are now including advertising in our Program Guide.  Our hope is that the money generated from the advertising sales will offset the cost of mailing this information to your home.  If you are interested in advertising in future publications, please call 509 575 6020.
As I start 2018, I will be setting personal and professional goals.  My wife and I are each working on creating a list of 100 things we would like to do over the next years.  Some are simple like hiking Naches Loop on a full moon and some of them are more challenging, but we are setting the goals through a vehicle of a plan.  I only have 41 things on my list of 100, so far.  I would encourage you to create a plan that you fervently believe, as Picasso stated, and begin to act to accomplish those goals.
Ken Wilkinson,  Parks and Recreation Manager