Manager's Message
"Life can only be understood backwards; but it must be lived forwards."
Soren Kierkegaard
As the New Year begins, the Parks & Recreation Division is in planning mode for the spring and summer.  Winter is always a great time for us to look back on what has been done in the past year.  We take some time to evaluate what has been successful, what hasn't been successful, where we need to improve and where we go from here.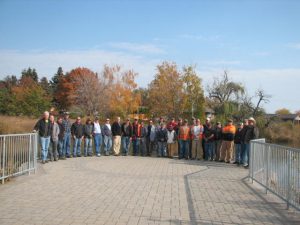 City of Yakima employees that worked on Randall Park
Looking backwards, the Randall Park Improvement project has been all consuming, but we are almost done.  We have a few more things to do in 2019 before we can call it complete.  We are in the process of planning a Grand Re-Opening of Randall Park.  We will let everyone know when we have a date and a time set so that anyone that wants to be a part of this celebration can attend.  Over $1.4 million dollars have been poured into this favorite park of so many people.  Almost all of the money for the renovation came from our generous donors, service clubs and a grant from the Recreation and Conservation Office of the State of Washington.  Also a large amount of labor for this project was performed by our very talented employees from the Streets Division, Signs and Lines Division, Stormwater Division and Park Maintenance.  Their work help us stretch the dollars.  I am including a picture of many of the City of Yakima employees that worked on this project.  Without them, we could not have gotten everything done that we had planned.  I cannot stress enough how grateful I am to the men and women that work for the City and their contribution to making our community a better place.  Many of our park users have taken the time to let us know just how much they enjoy all of the improvements to the park.
Over the past few years we have had some struggles at Tahoma Cemetery.  Maintaining this large facility has it difficulties.  We have been making improvements, like upgrades to our irrigation canal system, and will continue to make improvements going forward.  Vandalism, graffiti, our current irrigation system, irrigation breaks and relentless weeds have all led to our cemetery not looking as good as it could.  We are planning to do some extra fertilization and weed treatment this spring along with some over seeding.  Yakima City Council approved another Seasonal Maintenance Worker position for 2019 and our hope is to be able to give added attention to the cemetery.  Over the past year we have taken some steps to improve the facility, but more is needed in 2019.
As we start the New Year, take a look back with us and reflect on what has been accomplished.  As we move forward, please let us know where we are doing a good job and let us know areas where we need to continue to improve.  Feel free to email me at Ken.Wilkinson@YakimaWa.gov.  Happy New Year and live life forward.
Ken Wilkinson,  Parks and Recreation Manager