"First, think. Second, dream. Third, believe. And finally, dare."

Walt Disney
As winter begins, we parks & recreation types are already thinking about spring and summer. I have always been a planner. I like the thinking and dreaming stage and then spending time trying to figure out how we get the dreams accomplished.
It has been a dream of mine to replace the playground at Martin Luther King Jr. Park. We began working with our friends at Downtown Yakima Rotary to make this a reality. Eric Silvers, current president of Downtown Rotary, has chosen as his project for 2020 to replace the playground at Martin Luther King Jr. Park and add a picnic shelter too. We will also be working with Dan Sullivan and Wes Morris on the project. It is our plan to remove the old worn out playground and place the new much larger one near that spot in the spring of 2020. We are also planning to construct a picnic shelter in the area where the bands set up for the Viva la Musica concerts at the park.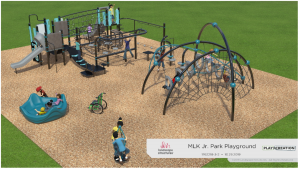 City Council directed us to create a feasibility study for the proposed community swimming pool at Martin Luther King Jr. Park.  The study has been completed and can be found on our Yakima Parks & Recreation website.  www.Yakimaparks.com.
As always, maintenance is a challenge for us. There is always more work than time. We have struggled over the years to maintain flower beds. Recently, the rose gardens at Franklin Park have not looked so good. Everyone that has a garden knows the work they take to keep looking good. In past years we have had volunteers helping us keep them nice, but volunteers move, get tired and just can't do the work anymore. We are considering removing the rose gardens and replacing them with grass. Before we do that, I wanted to put out the request for volunteers to help us once again bring the rose gardens back to their previous glory. If you have the time and energy, please contact me as soon as possible. You can contact me at 509 576 6416 or by email at Ken.Wilkinson@YakimaWa.gov.
Walt Disney said it well. We need to spend time each year thinking and dreaming and being courageous to believe and be daring. Sometimes the part about being daring can be pretty scary, but I have found that it is worth the risk. I encourage you to dare to take some risks in 2020. I will look for ways to be daring in 2020 too.
If you have comments or questions regarding Yakima Parks & Recreation, please contact me at ken.wilkinson@YakimaWa.gov or you can call me 509 575 6020.
Ken Wilkinson, Parks and Recreation Manager