Manager's Message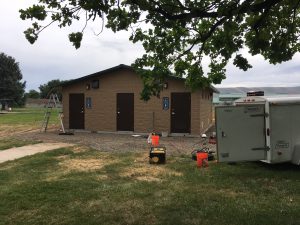 Wow, another hot summer and we added some extra smoke to the heat.  I hope you were able to get out and have summer fun in spite of the heat and smoke.  We have been very busy as usual.  The parking lot at Randall Park on the 48th Avenue side is under construction.  The old parking lot was literally falling apart.  Work on the pond is set to begin soon.  I am sure the ducks won't be happy for a short time, but they will love the new and improved pond when it is done.
The new restroom is up and running at Gardner Park. This is a big improvement to this park.  How quickly we forget the old restroom that was removed.  A new playground at Gardner is planned for this fall.
Leslie Richards joined the Yakima Parks and Recreation staff in July.  Leslie and her family moved to Yakima from Tennessee to fill the Recreation Program Supervisor at the Harman Center.  She brings many years of experience in planning programs and events for seniors and the community.  Please take a look at the Harman Center page in this 2017 Fall Program Guide for some of the new programs and events she has planned.
We continue to work on our 2017 – 2022 Comprehensive Master Plan for Parks & Recreation.  This has been a long process.  We completed all of the work with City staff instead of hiring an outside consultant, which saved our Parks and Recreation budget a large amount of money.  Trying to fit a large project, like a comprehensive plan on top of all of the other regular stuff we need to do, has been a challenge.  Special thanks to June Wentz, Jill Ballard, Alejandra Rodriguez, Diondra Brown, Mary Mendoza and Jenise Sanders for all of their extra time and effort to get this plan completed.  We will be presenting it to the Parks and Recreation Commission in September and then to the City Council.  We will make it available online for your review.  I am often reminded of a Japanese proverb when I spend time working on a comprehensive master plan.  The Japanese proverbs says,
"Vision without action is a daydream. Action without vision is a nightmare."
Our hope is that through the comprehensive master planning process, we create a vision for the future with action to make it a reality.  It is always amazing to me when I look back on the visions that we created in the past and then be part of getting them realized, like the improvements to Kiwanis Park, Franklin Park and the current renovation of Randall Park.  We certainly have more to do and with help from donors, grants, the parks capital funds and volunteer and staff labor, we will see the new visions become reality.
Ken Wilkinson,  Parks and Recreation Manager