Manager's Message
"Unity is strength… when there is teamwork and collaboration, wonderful things can be achieved.
Mattie Stepanek
Another busy summer is gone and I always look forward to the cooler days of fall and of course FOOTBALL!  I had the privilege of playing football for ten years, starting in junior high school and finishing with 4 years of college.  I was always happy to be part of the team.  If I made a mistake, my team mates were there to pick me up.  If I made a great play, it was because others on my team had done their job.  This summer I had two great opportunities to be part of a team once again.
In June, the Parks and Recreation staff worked with John and Chris, our representatives from PlayCreation, to build a new and very amazing playground at Lions Park.  The old playground was small and very outdated.  With a $25,000 donation from the Yakima Lions Club and some Parks Capital money, we replaced the playground at the park.  The Parks Maintenance staff, Parks & Recreation Office staff, Tahoma Cemetery staff and Recreation staff were able to work together with Marv Franklin, from the Lions Club, to put all the pieces of the playground together.  We joked after the build that we saw a lot of bellies and backsides during the build, but we got it done.  It was a great day and good time of team building.  I am so proud of the staff for all of their hard work to improve our park system and our community.
Another amazing team effort this summer was the construction of the pickleball courts at Franklin Park.  We were approach by a group of pickleball players in February about building some outdoor pickleball courts.  After talking with the staff and bringing the idea to the Yakima Park & Recreation Commission, we decided that converting three of the six old and in very bad shape tennis courts at Franklin Park into eight pickleball courts was a good idea.  We took a trip to the Tri-cities to take a look at their conversion of two basketball courts into pickleball courts and saw their great result which encouraged us to proceed with our project.  The local pickleball players created a club and raised over $10,000 for the renovation.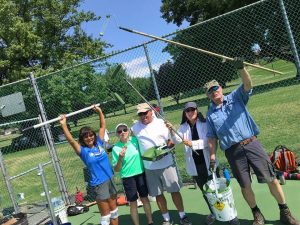 They also gave over 550 hours of volunteer time to help staff and our consultant, Sig Fossum from Sporthaus, build the courts.  The work was completed and the courts are open for play during park hours.  The staff also learned how to resurface tennis courts and we hope to be able to resurface a few in the future.  This is just another example of great teamwork and collaboration.  Thank you Yakima Pickleball Club members.
I hope you all get a chance to visit the playground at Lions Park and the pickleball courts at Franklin Park this fall and check out the wonderful things that can be achieved with teamwork and collaboration.  If you have comments or questions regarding Yakima Parks & Recreation, please contact me at ken.wilkinson@YakimaWa.gov or you can call me 509 575 6020.
Ken Wilkinson,  Parks and Recreation Manager