Summer Day Camps
Registrations for the 2020 Kissel Kids Summer Day camp will begin Friday, May 15, 2020. For more information please call Parks and Recreation office at (509) 575-6020.
SUMMER DAY CAMP
Registrations will begin Friday, May 15, 2020 for the Summer of 2020 at the Public Works Building at 2301 Fruitvale Blvd (Doors open at 8:00 a.m.). No online registrations. Registration is in person only.
SPACE IS LIMITED and will be allocated on a first-come/first-served basis! Registration limited to one family per household.
The program runs June 15- August 14, 2020 (Mon-Fri) at Kissel Park (32nd Ave & Mead) from 9 a.m. – 4 p.m. For boys & girls 5-11 years old.
Fee: $60 non-refundable registration fee
*5 year olds must have completed Kindergarten! Kids must be potty-trained and able to use the restroom on their own.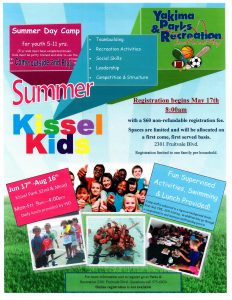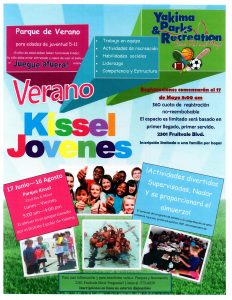 Parks and Recreation staff will provide supervised recreational games, exciting activities, amazing arts & crafts and weekly trips to Franklin Pool. Lunch will be provided by Yakima School District.